Just Barns ~ We Steel For You!
COVID-19 Response
Yes, we are open!
We are typically open Tuesdays and Thursdays 8am-4pm, but that is subject to change without notice. Please call or email before coming in to insure someone is in the office at that time. If you're calling for retail sales, we no longer provide that service. Feel free to email for more specific help.
Custom Pole Barns
Welcome to Just Barns, Inc now entering our 35th year in business. We are a premium builder of custom pole barns here in the Western New York area. Every building is designed special to meet your specific needs.
We offer all the services necessary from start to finish for your building project. We can demolish the existing structure, site work preparation, all the interior finishes, including plumbing and electrical, everything from start to finish. Whether your building is for personal or business we can address all your concerns and offer the best solutions to fit your budget.
Just Barns, Inc takes pride in using only the finest building components available to ensure an exceptional finished product. From the laminated columns right on through to the last screw, we never cut corners in order to cut costs. We are continually on the lookout for new and better product options so our clients will be proud of their building project for decades to come.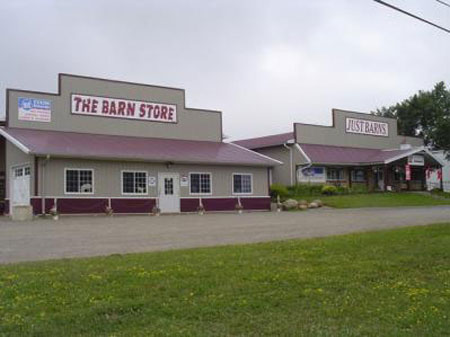 Steel Roofing Options
Just Barns, Inc also offers steel roofing options for both commercial and residential buildings. Steel roofing is growing faster than the "green" craze,and we can help you get a leg up on your project. So you ask what is a permanent investment grade roofing solution…STEEL, the true roof of a lifetime!
The building is Stunning!  We get so many compliments , it makes me so proud. You were extremely helpful through the whole process. You gave us exactly what we wanted and more. Thank you for your dedication and hard work. You took our dream and made it a reality.