Importance of proper insulation
The versatility and performance of Micro E Insulation by Environmentally Safe Products, Inc. makes it the best insulation available for your metal building, post frame building, or residential application. Designed to meet ASHRAE 90.1 Standards with performance, durability, and easy installation, Micro E Insulation can make your job easier!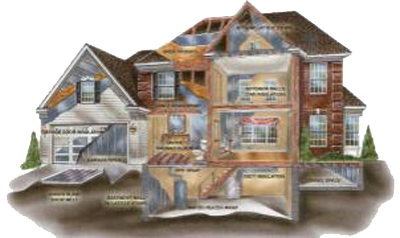 Meets the ASHRAE 90.0 Standard
Benefits of Micro E Insulation in Metal Buildings:
Micro E Insulation will easily fit between the roof panels, the clips and the purlins.
Micro E Insulation eliminates "Oil Canning" or "Ghosting" of metal roof panels.
Micro E Insulation provides a continuous Thermal Break, without foam spacers or extended fasteners.
No itching or irritation – Even in Hot, Humid Conditions
Actually use less insulation and have a better U-value. Micro E Insulation with sufficient airspace can outperform up to 3.5″ of mass insulation.
Extended Staple Flanges are available for easier installation. Flange eliminates time and cost involved with taping the seams. Provides a continuous vapor barrier by just folding the flanges together and stapling.
Large, lightweight rolls make installation easy, even in windy conditions.
Class A, Class I fire ratings.
Doesn't crack or discolor in hot or cold conditions.
Vapor Barrier is directly under the steel.
Micro E Insulation can be easily run over the purlins as a total replacement for up to 3.5″ metal building insulation.
Why Use Micro E Insulation?
The only patented insulation of its kind.
Large rolls are quick & easy to install.
Gives a smooth finished appearance.
Excellent Fire rating.
Clean and Non-Toxic – will not harm people, animals or plants.
Maintains consistent system R-Values.
Uses up to 40% recycled polyethylene foam.
The only insulation that could last the life of your building.
Micro E Insulation is Easy to Intall:
Easily forms a tight seal around fasteners.
No itching or irritation – Even in Hot, Humid Conditions
Multiple widths and thickness make it ideal for any purpose
No loss of insulation due to Staple Flange. Our easy-to-use Staple Flange extends past width of rolls. No Tape Needed!
Easily Installed with only a razor knife, tape measure and a staple gun.
Product / Thickness
Micro-E
1/8″ Thick
Roll Sizes
4′ x 125′
4′ x 250′
5′ x 100′
6′ x 84′
Styles
Double-Sided Aluminum
Double-Sided Aluminum w/ Staple
Flange