Steel Roofing Installation
Metal Roofing & Siding Installations
Just Barns Inc. has been selling and installing metal siding and roofing for more than 27 years.
Our manufacturers carry 29-gauge and 26-gauge steel coated with a premium paint system, which carries a forty year warranty against cracking and fading. And with so many colors to choose from, we're sure to have the one that's perfect for your application.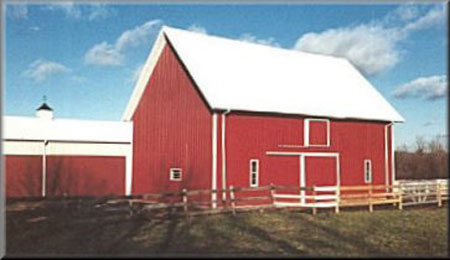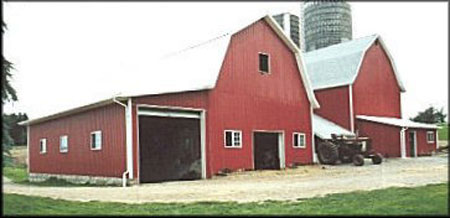 Gambrel Dairy Barns & Additions
Beaver Meadow Rd. N. Java, NY
McElroy steel siding & roofing, new windows and doors.
(Dairy of Distinction)
Do you have excessive ice build up in winter?
Is your upstairs or attic space unbearably warm in summer?
Heat and ice problems can be virtually eliminated by installing a Radiant Heat & Vapor Barrier under your new metal roofing.
Metal roofing is installed right over your existing roof, eliminating the disposal problems commonly associated with re-roofing projects.
Firring strips are laid down over the shingles.
Radiant insulation is installed if requested.
The steel panels are attached with color coordinating coated screws.***
All the necessary trim pieces are attached with color coordinating coated screws***
Because many older homes are not vented properly, we make it a policy to install venting ridge caps wherever possible.
Your roof can be finished off with fascia trim.
Color coordinating painted steel gutters & down spouts as well as Snow Blox can be installed above doors and walkways to prevent ice and snow from accumulating and falling
Prevent leaves, pine needles and more from plugging your gutters. After many years of research we have found a stainless steel solution. Guaranteed to keep your gutters clean for 25 years.
Set your building apart from the rest with a cupola or weathervane. We have many styles and sizes to choose from to give your new roof that unique appeal!
Installations can be done year round. Please contact Just Barns Inc. for your free estimate. Our knowledgeable staff will meet with you to determine your needs and discuss any specific problems you might be having with your current roof system. Once we have determined exactly what you want and need, an estimate can be presented.